Among the various day trips you can embark on from the Cochin Shore, the Backwaters are most enchanting. The long labyrinthine network of brackish lagoons, canals, creeks and lake water with lush green borders on both the banks look serene. 

The Kerala Backwaters has amazing paraphernalia of sights and sounds. You would be engrossed in watching the birds and animals as well as the different activities by the people. 
If you are a first-timer, it is pretty overwhelming for you to decide about how to enjoy the Backwaters to the fullest potential. We are here to help you out. 
 Explore the backwaters on canoes and luxury houseboats
The non-mechanical canoes driven by boatmen or the luxury houseboats where you can stay, both offer splendid views of the backwaters. You can enjoy the views of deep mangrove forests and lush green coconut and palm groves from the boats. You can also catch sights of colorful birds, mainly fishing birds, and animals like crabs, frogs and mud skippers busy in their daily activities. While cruising through, the soft breeze through your face and hairs and the rippling sound of the waters below will rejuvenate your spirits. 
 Enjoy the sunrise and the sunset from the backwaters
From the backwaters, you can marvel on how nature plays riots of colours in the sky and the water during the sunrise and sunset. The sun's changing colors and their images on the water appear picturesque during the breaking of dawn and the dusk. As the sun rises, the birds go out of their nests, and when it sets, they come back to their nests. The silhouettes of the birds in the soft colours of the sunrise and sunset looks wonderful. 
 Take brief pitstops and go for village walks
While cruising through the backwaters, you can take brief halts at the villages lined along the backwaters and go for a walk. The people and their daily chores give you a peek into their humble and simple lifestyles. Our own lives may be full of complexities and competitions. So to watch their simple way of life is not only relaxing but also a soul-searching experience.
 Go for a solo kayaking
If you know how to sail a Kayak, you should absolutely go for this activity. The solo journey on the backwaters allows you to absorb the scenic views more fully. And who knows? Maybe this self-sailing activity on the deep and narrow backwaters can lead to some sort of self-discovery.
 Learn a fishing trick or two from the locals
Fishing is the main occupation of the local people. They catch fish using various indigenous methods. Its an absolute delight to watch them catch fish in these ways. If you feel excited enough to catch fish, too, you can learn it from the locals themselves. Most popular technique used is to attach baits in the fishing rods and catch fish. The locals help you to learn this popular technique too. 
 Observe the functioning of the Chinese Fishing Nets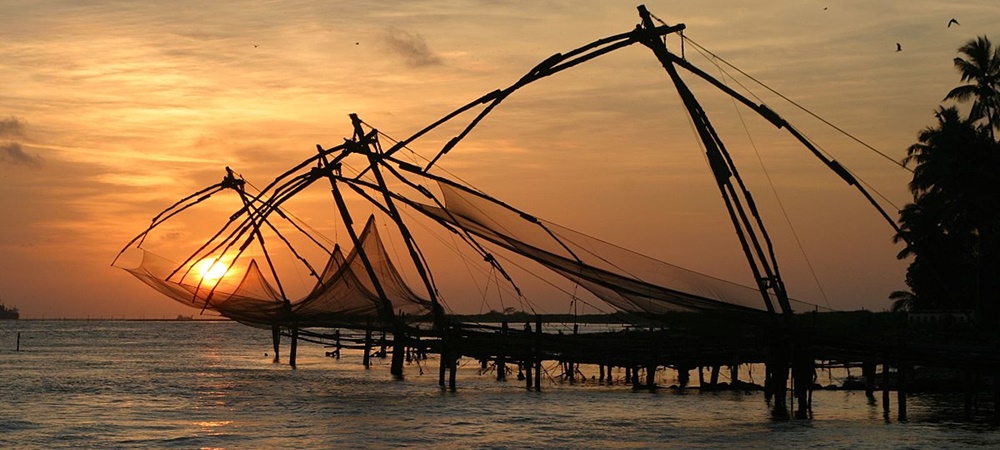 Pic Courtesy: Wikipedia

The process in which the Chinese Fishing Nets catch fishes and crabs are quite unique. They somewhat spoon up the fishes from the water using the nets. At first, the net is lowered and then the net is slowly lifted up. The entire process looks amazing and looks more awesome if watched with the rising or setting sun in the background. You can observe the process by sitting at your boat itself. 
 Relish authentic Kerala cuisine
Last but not least is to experience the delicious Kerala cuisine. The food cooked by the locals are authentic and prepared using traditional ingredients, so the food items bring out the true flavors of Kerala that must be tasted by the ones visiting here. Whether it is vegetarian food, non-vegetarian food or the local drinks and beverages, all of them look mouth watering and have rich aromas and taste.
We can sure assure you that you will enjoy each of these must-have experiences and return home with amazing memories.